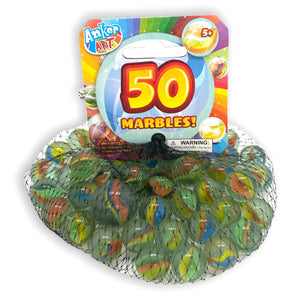 50 Piece Marbles
Regular price
$2.50
$0.00
Unit price
per
It's the classic playground game that's popular again!
The game of marbles has been played by children all over the world for thousands of years, with ancient versions of the game found in Egyptian tombs and Roman ruins.
The objective of the game is to use your shooter marble to knock other marbles out of a ring or circle drawn on the ground. The player with the highest count wins, and players can also opt "for keepsies" or "for fair" (returning marbles to the original owners).
The bag of 50 glass marbles includes 49x 16mm marbles and 1x 25mm cat's eye marble.

Ages 5+


---